This is about a off topic. I am willing to share this.Agaram and Vazhai are working close in the same strap of poor children uplift from the rural area of Tamilnadu.

We are pleased to welcome you to Vazhai and we thank you for your interest on fulfilling your social responsibility. Here in Vazhai we are nurturing the poor students who is going to school first in their generation from the literally backward Dharmapuri district. In the successful commencement of fifth year, we are selecting the 'Mentors' who can guide the child to come up in their life. Let us replicate the help to the next generation which we got from somebody in your generation.
Two major teams are working for Vazhai in Bangalore and Chennai. Now we are looking for mentors in Bangalore region. For becoming a mentor you should be able to spend four weekends(eight days) in an year in Dharmapuri District, speak weekly once through phone with the child(6th Student) you are going to mentor and write letters once in a month to the child. If you are convenient with this and want to start your journey in Vazhai as a Volunteer, we have an 'Introductory meet about Vazhai' followed by a workshop on 'Mentoring' on 6th September Sunday. Your move to attend this meeting is a step to convert your 'thinking of serving' the society into actual execution.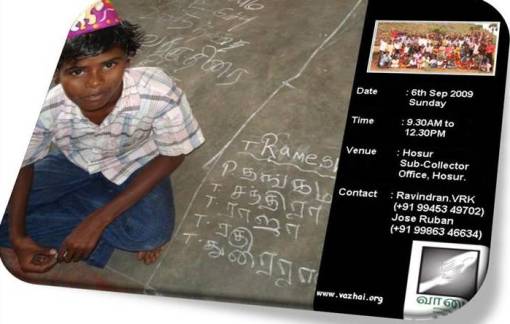 This mentor workshop will give you insights on Vazhai, and the ways you can volunteer in it. Please confirm your presence at the earliest by replying to this mail.

For any clarifications/queries on Vazhai mail to info@vazhai.org. Visit our site www.vazhai.org for more details.